We would love to hear your experience with us, and would greatly appreciate it if you would kindly leave us a Google review here!
Thank you!
---
Don Martin
We had a great time.
Fishing SUPERB limited out on Koho and Halibut. Colin is a great host and cook.
Will defiantly be going again!
---
Darrel Cockx
I've tried them all, the small tin boats, the fishing camps, but none can compare with the experience of the Kaien Sportfishing charter. The 42′ fishing boat (Flying O) is totally self contained, warm & cozy in the worst of weather. Best of all, in ten years we've never been skunked and have limited out 8 times. Captain Colin knows where to find the big ones. I would highly recommend this fishing experience.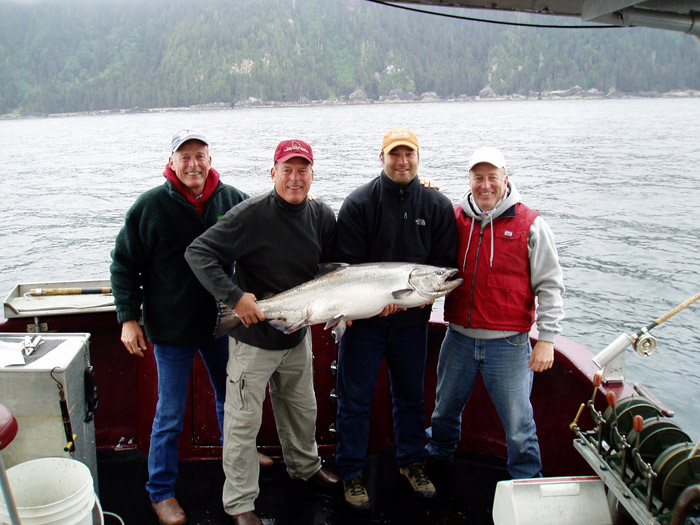 ---
Nairn / Gardner Family
For the past two summers we have enjoyed fishing charters with Colin Flaten aboard the Flying O. Colin has taken us to the waters off of Graham Island, Haida Gwaii's most northern Island, where we have experienced the true beauty of British Columbia's northern coast. In 2011 we booked our charter in August with June being the choice for 2012. The fact that we are repeat clients says it all. In fact I had to buy a freezer after the 2011 trip!
During our days fishing we were along side gray whales, sea lions, a walrus, eagles and various sea birds overhead. A day fishing with Colin is truly an experience which starts with fish being caught from the time Colin tells us to get our lines in the water to when he says it's time to head in for the night to enjoy the catch of the day.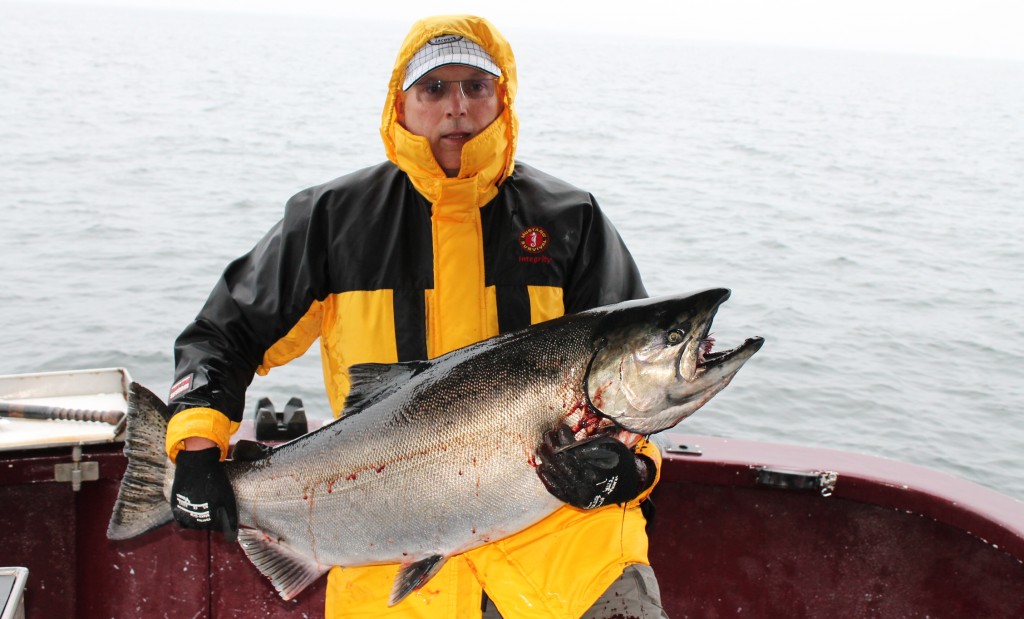 This year's highlights were the double-header we had during the morning's tide change on day 2; two beautiful springs, a 32 pounder landed by my nephew Andrew and a 27 pounder landed by myself. What a thrill playing these fish from the aft of the Flying O with both fish taking runs in different directions at the same time! My brother Mark and my son-in-law Scott were equally rewarded with springs in the 20 pound range. On day 3 we pulled up the crab traps set the day before and headed off shore for some halibut fishing. That evening Colin anchored the Flying O close to where he felt the early morning bite would be. Early next morning, day 4, after a wonderful evening of feasting on crab we had a high five experience landing a 50 lbs tyee. Within minutes of getting the bait in the water the line was just peeling off and I discovered the true meaning of a knuckle-duster! Drag properly set on the reel, rod tip up the fight was on and what a thrill!
On day 5 we returned to Masset and took our catch to the folks at Seapack Q.C.I.Processing to have cut, packaged and flash frozen. Delivery of your catch to the Masset airport as part of their service. Our final night of our trip was spent ashore at Engelhard's Oceanview Lodge. Our hosts Fritz and his wife Thi Hai prepared a lovely breakfast for us the next morning before heading out to catch our Pacific Coastal flight back to YVR.
---
Mag & Marv Kraeleman
The moment you step across the railing onto the deck of the Flying "O" , the adventure begins. We have been on a few charters over the years , have fished our own boat on the coast . None has compared to the experience of fishing with Capt. Colin. The sense of security and comfort is immediate with both captain and vessel. The fishing action was none stop from the crack of dawn until the captain says enough.
It doesn't stop there!!
Moor up in a secure location, grab a beverage, put your feet up on the sheltered deck and enjoy the company of the Captain as he prepares a superior meal and you better have an appetite!! Put the tired body to bed and start all over in the morning.
Will we return for round two? HELL YA!!! In a heart beat, can't happen soon enough!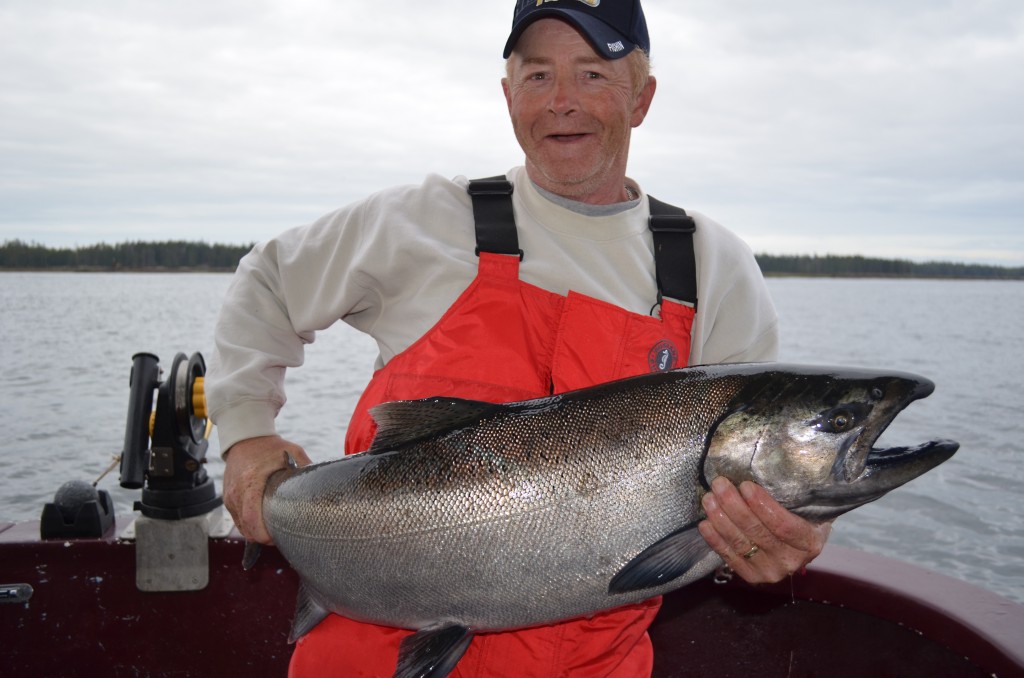 ---
Perry Criddle
Perry Criddle took his first trip up to Haida Gwaii last season with his son Derek and grandson Beau. The boys took their limits of both halibut and salmon home in 2011, enjoying perfect weather as you can see in the pic below.
Perry is hoping to return in 2012 for another family fishing excursion with his wife Sue, son Derek and his wife Samantha.