Most saltwater sports fisherman dream of the chance to experience world-class chinook salmon fishing on the West Coast of British Columbia. Your host and captain, Colin Flaten, has made his living commercial and sport fishing in and around these waters most of his life and has intimate knowledge of these areas.
When you arrive…
Your adventure starts once we leave the dock at the Prince Rupert Yacht Club, heading out to the fishing grounds. Then, anchor in a protective cove, ready for an early start near our fishing spot.
What separates us from the rest…
Our 40ft. vessel "MV Flying O" was built and customized specifically for the warmth and comfort of these waters. We do not split you up and send you out in small open boats. Instead, you are fully protected from all weather conditions with plenty of room to move around and enjoy the company of your group. When we anchor at night in protective locations we have a large BBQ to assist in dining on the great selection of seafood we catch all day long. Over the years we have had many families and couples who have found this to their liking.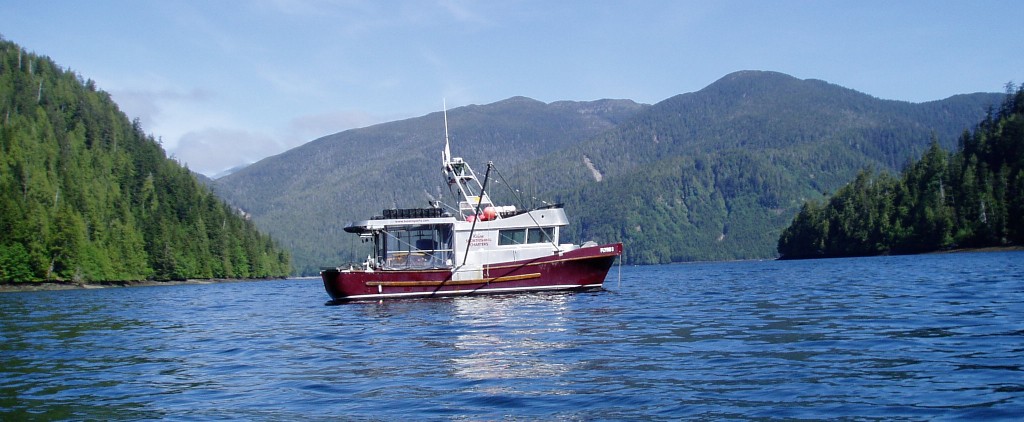 With the spectacular scenery and wildlife, the abillity to move from spot to spot proves to be a great advantage. Whether couples, a family, or a group of determined guys, our feedback is that all considered an experience on the Flying O would be hard to match.
---
Fishing Gear:
We provide all the saltwater fishing equipment and bait needed for this type of West Coast fishing.
---
Fish Care:
Your fish are cleaned when they come aboard and then iced away to retain maximum quality before the trip home. Freezing or smoking can be arranged also.
Dolly's Fish Market – Local smoking and procesing services provided at Dolly's Fish Market.
---
Meals and Lodging:
All meals and bedding are provided, but you are required to bring your own refreshments and snacks. These can be provided for you with prior notice.
---
Clothing:
We recommend you bring light rain gear, low deck boots and sneakers. Warm clothing by layering is recommended.
---
License:
Everything is included: meals, bedding, fishing tackle, bait, etc. All you are required to bring is your Tidal Sportfishing Licence. Apply for your licence online here.